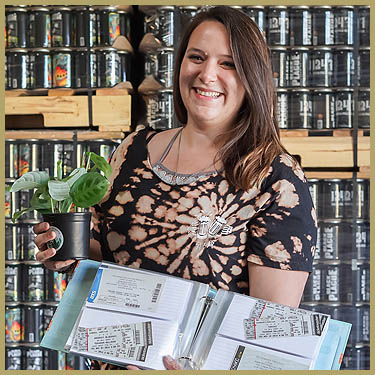 Miranda Arvidson
TAPROOM BEERTENDER
Miranda joined the BLACK PLAGUE team as a Taproom Beertender with lots of experience in the craft beer industry. She became a Taproom Lead and has helped to maintain a high-quality experience for every guest. She is also actively working on advancing her career in physical therapy. Outside of work, Miranda loves the outdoors and going to live music performances / concerts.
Get to know Miranda…
Hometown? Simsbury, CT
What's your middle name? Lynn
Favorite BLACK PLAGUE Beer? Grim Ripper
Favorite day of the week? Saturday (or my Saturday/Day Off aka Tuesday)
Who inspires you? My mom
Favorite city in U.S. besides the one you live in? Tough question, either Boston or New Orleans
Nickname your parents used to call you? Miranda Lynn (not really a nickname, but I knew I was in trouble if I heard this)
Favorite music genre? Bluegrass and Funk
Biggest Fear? Being trapped somewhere remote w/ no one around (I do lots of camping in places w/ no service)
Favorite holiday? Thanksgiving
Dawn or dusk? Dusk
Favorite junk food? Dip, jalapeño spinach artichoke dip w/ pita chips
What does a person need to be happy? Good friends/community
Is double dipping at a party ever acceptable? Yes, we're all friends here… unless we're strangers, then please don't.
Dogs or cats? Doggos
Have you ever slapped someone in the face? Nope
What's the most boring thing ever? Waiting in lines