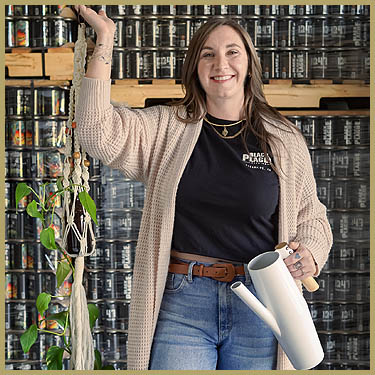 Megan Doss
DIRECTOR OF SERVICE & HOSPITALITY
Megan has worn many hats since the beginning of BLACK PLAGUE – Beertender, Taproom Manager, Events Manager, Customer Service Manager, Order Fulfillment Manager, and now Director of Hospitality & Service – helping to establish the standard and set the bar high for everyone she leads. Megan is incredibly devoted to creating a hospitable environment for both staff and guests, working alongside the founders to cover any gaps. She works tirelessly to cultivate meaningful experiences for the team and the community by overseeing hiring, onboarding, team training and development as well as Taproom service management. Her relentless dedication to the brand values of creating a community and her compassionate personality are a winning combination that makes everyone's lives better as she ensures everyone's voice is heard during the decision making process. Megan is a priceless member of the team.
Get to know Megan…
Hometown? Norman, OK
What's your middle name? Christina
Favorite BLACK PLAGUE Beer? 1347 & In My Darkest Sour
Favorite day of the week? Saturday
Who inspires you? Brene Brown, Maya Angelou, Dolly Parton, my Grandpa
Favorite city in U.S. besides the one you live in? Lahaina, HI
Nickname your parents used to call you? Punkin' (that's "pumpkin" in Okie)
Favorite music genre? Folk, Americana, R&B, Classic Rock, Hip Hop, Funk
Biggest Fear? Snakes!
Favorite holiday? Christmas and July 4th
Dawn or dusk? Dusk = sunsets and beer… duh!
Favorite junk food? Candy, chocolate-y baked goods, or anything with CHEESE!
What does a person need to be happy? Gratitude and hope
Is double dipping at a party ever acceptable? Nope… even if it is tempting, don't do it!
Dogs or cats? Dogs have the purest souls! But cats are mischievously fun too!
Have you ever slapped someone in the face? Yes… not my proudest moment, but I would probably do it again tbh.
What's the most boring thing ever? small talk and superficiality…