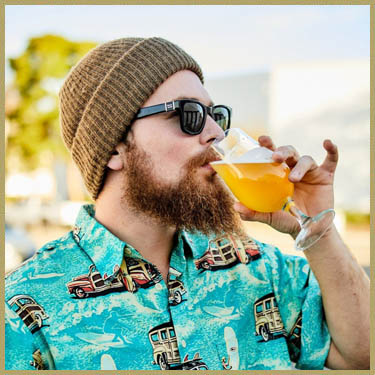 Trevor Abel
ASSISTANT TAPROOM MANAGER & BEER SALES REP
Trevor joined the BLACK PLAGUE Taproom team to help keep the beer flowing and the good times going. Since running the gauntlet, he has expanded his role at Assistant Taproom Manager & Beer Sales Rep. He recently graduated from CSUSM, majoring in communications, and loves telling stories about the Plague Doctor and his experience in the beer industry. Values-based leadership is really important to him. He played a major role in his fraternity on campus and helped support many initiatives to grow their community into a group of conscientious leaders. He is a big fan of craft beer and loves to learn about each beer style and how the ingredients work together to create unique flavors and aromas. When he is not pouring pints, he likes to swim in the ocean and spend time at the beach.
Get to know Trevor…
Hometown? Newport Beach
What's your middle name? David
Favorite BLACK PLAGUE Beer? Bring Out Your Dead
Favorite day of the week? Tuesday's aka my day off
Who inspires you? All of my awesome coworkers and the people that make the plague possible.
Favorite city in U.S. besides the one you live in? Mammoth lakes
Nickname your parents used to call you? T-dog
Favorite music genre? Indie/ Folk
Biggest Fear? Growing up!
Favorite holiday? Halloween
Dawn or dusk? Dusk! Who actually wakes up that early
Favorite junk food? Jack in the box tacos ?
What does a person need to be happy? A cold swim in the ocean
Is double dipping at a party ever acceptable? I personally go for the flip and dip technique
Dogs or cats? Why not both!
Have you ever slapped someone in the face? Nope, I tend to stay 6 feet apart nowadays
What's the most boring thing ever? Online classes