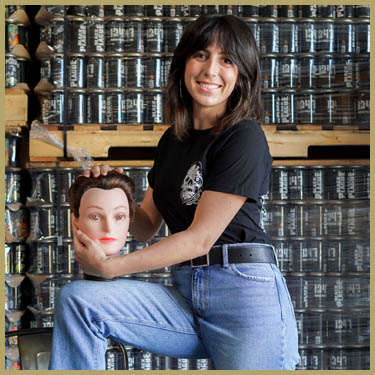 Madison Quintana
TAPROOM BEERTENDER
Madison, aka Maddy, is a ray of sunshine – she hustles at the speed of light and brightens up everyone around her. Her ability to swiftly deliver exceptional customer service to a bustling crowd while engaging in a way that makes you feel like you're the only person in the room is very impressive. Maddy works hard to make sure BLACK PLAGUE stands out as a great place to enjoy delicious craft beer with friends. She is also attending salon stylist school and practices cutting hair on her friends. Maddy has developed a knack for starting a conversation with anyone, even a mannequin head.
Get to know Maddy…
Hometown? Oceanside local baybee!
What's your middle name? Lynn
Favorite BLACK PLAGUE Beer? Grim Ripper
Favorite day of the week? At this stage of my life, they all feel exactly the same.
Who inspires you? People that I know, and people that I meet every day. Brave, hardworking, genuine, resilient humans.
Favorite city in U.S. besides the one you live in? —–
Nickname your parents used to call you? The only strange nickname I've had is Freddie, and it came from my friends in middle school. Ask me about it sometime.
Favorite music genre? Folk & Rock
Biggest Fear? Thats a heavy question, ill have to think more about it lol
Favorite holiday? Halloween & Valentines Day – Don't @ me.
Dawn or dusk? Dusk
Favorite junk food? Kraft Mac & Cheese or die
What does a person need to be happy? Faith, Love & Boundaries
Is double dipping at a party ever acceptable? Depends on the party
Dogs or cats? I refuse to take one side! BOTH.
Have you ever slapped someone in the face? Yes
What's the most boring thing ever? Brown rice