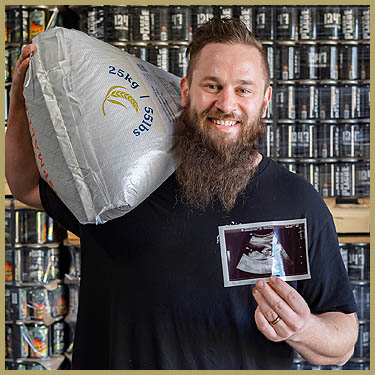 Corey Vinton
CELLAR TECHNICIAN
Corey is a kind-hearted, hard-working, and meticulous Cellar Technician with a love for all things craft beer. He continuously looks for ways to refine our cellaring practices and manages to maintain a spotless and sanitary environment amid a fast-paced production & packaging schedule. He aims to become a brewer one day and is well on his way to proving he has what it takes. Corey is proud to be a new father and is eagerly awaiting the birth of his first child. We're lucky to have Corey as part of the BLACK PLAGUE team.
Get yo know Corey…
Hometown? Massillon, OH
What's your middle name? Joe
Favorite BLACK PLAGUE Beer? Noble Inception
Favorite day of the week? Sunday (especially during football season)
Who inspires you? Michael Jordan and Kobe Bryant
Favorite city in U.S. besides the one you live in? Chi-town
Nickname your parents used to call you? Coreymeister
Favorite music genre? Emo, Screamo, Pop punk
Biggest Fear? Death
Favorite holiday? Christmas
Dawn or dusk? Dusk, it's always worth it to take a moment to watch the sunset. 
Favorite junk food? White Cheddar Cheezits
What does a person need to be happy? The love and support to follow their dreams. 
Is double dipping at a party ever acceptable? Yes, to mark your territory.
Dogs or cats? Cats 100% 
Have you ever slapped someone in the face? Psh, yeah you can't be scared to put a fool in their place. 
What's the most boring thing ever? Watching paint dry