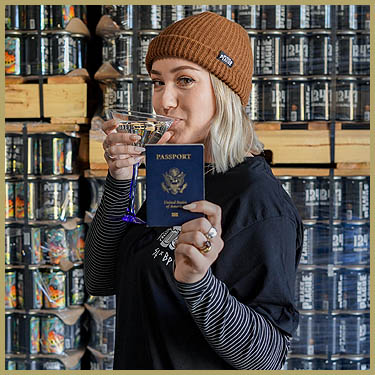 Caitlin McGowan
TAPROOM LEAD
Caitlin has been a part of the BLACK PLAGUE team since the early days. She is a Taproom Lead and everyone has come to love her positive vibes. Caitlin's presence is calming and she brings a certain authentic style and energy to every experience for our guests. She loves to travel, go on road trips, camp outdoors, and enjoy a delicious cocktail when she is not slangin' beers. Ask her about the latest stamp in her passport and you're bound to hear a good story…
Get to know Caitlin…
Hometown? Born in San Diego, grew up in Lake Elsinore
What's your middle name? Haley
Favorite BLACK PLAGUE Beer? Pink guava sour/ noble inception
Favorite day of the week? Sunday!!
Who inspires you? Anyone who isn't afraid to be their authentic self in every situation
Favorite city in U.S. besides the one you live in? New York or San Fransisco. City life there is always exciting
Nickname your parents used to call you? Cake-lin because I like to eat lol
Favorite music genre? I love it all but my go to is anything & everything 70'sWorst fear? Not being successful or being judged

Favorite holiday? Christmas duh
Dawn or dusk? Dusk
Favorite junk food? Chinese food & donuts
What does a person need to be happy? The ability to see joy & beauty in everyday things. Meaningful relationships & conversations
Is double dipping at a party ever acceptable? Only if no one knows about it
Dogs or cats? Can I have both?
Have you ever slapped someone in the face? Lol, yes
What's the most boring thing ever? Small talk, someone that only talks about themselves & going to see the koalas at the zoo