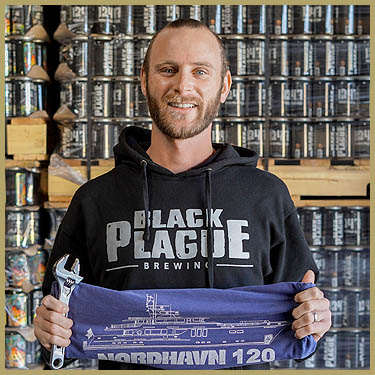 Bret Leishman
TAPROOM BEERTENDER
Bret is a fan of all beers and has always wanted to work at a brewery. He believes that it takes a combination of delicious beer and the right atmosphere to really make our place special – so he focuses on keeping the vibes perfect. Bret is always looking to learn things he doesn't know. He works hard to ensure that the outstanding reputation of BLACK PLAGUE in the beer community, near and far, it held in the highest regard. His family also owns and operates a yacht-building business, so he spends his off-time helping them maintain sea-faring vessels.
Get to know Bret…
Hometown? Oceanside
What's your middle name? Conrad
Favorite BLACK PLAGUE Beer? As The World Burns
Favorite day of the week? Friday
Who inspires you? Mostly my dog Ozzie
Favorite city in U.S. besides the one you live in? Denver, CO
Nickname your parents used to call you? Bret
Favorite music genre? Rock, bluegrass
Biggest Fear? Not having a dog
Favorite holiday? Halloween
Dawn or dusk? Dawn
Favorite junk food? The Del
What does a person need to be happy? Beer and a dog
Is double dipping at a party ever acceptable? Pre covid it was ok I guess
Dogs or cats? Dogs
Have you ever slapped someone in the face? Only once or twice
What's the most boring thing ever? Waiting to get off an airplane after landing.