BLACK PLAGUE Brewing's Mission
BLACK PLAGUE Brewing represents the misfits, renegades, underdogs, rebels, rule-breakers, nonconformists, hustlers, D-I-Yers, and all those who strive to be better, stand out from the crowd, and follow their true passion. Our mission is to provide deliciously fresh hand-crafted beer, to empower others by encouraging positive social goodwill, promoting collaboration, and inspiring creative self-expression.
BLACK PLAGUE was born from the idea that beer makes friends, brings people together, and breaks down barriers that keep us segregated. History have proven that a small group of people can band together around a single purpose and create incredible change throughout the world. At BLACK PLAGUE, we believe that regardless of your creed, color, race, background, or walk of life, you can join us on our mission to spread good times with good beer…
The Team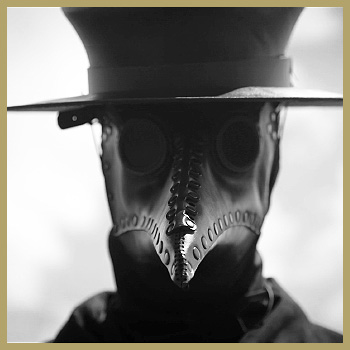 Plague Doctor
Redeemer of lost souls & part-time beertender
During the dark ages, people were encouraged to drink ales and to avoid the polluted water in urban areas as it was unsafe to drink. Water was really poor quality and brewhouses were popping up as the healthy alternative to avoid the plague.
As people began to get sick, Plague Doctors were contracted by the city to treat the sick, rich or poor. They often worked in isolation as they were quarantined for 40 days before being able to rejoin the community. They were regarded as 'Empirics' because they got their knowledge from practical experience and experimenting with new methods of treating patients… as opposed to laboratory research. Coincidentally, the art of brewing beer is very similar in that a lot of award winning recipes are found through experimentation and trying new things.
Commonly held medical theory of the time believed that an excess or deficiency of any of four distinct bodily fluids in a person—known as humors — would directly influence their temperament and health; each individual patient was said to have their own unique humoral composition…. This Plague Doctor is brewing beers to balance your humors.
There are so many parallels between serving the public as a Plague Doctor and brewing delicious beer as a brewmaster. Plague doctors didn't care what other's thought about them. They were innovators and non-conformists, they weren't restricted by traditional laws of the time. They were often given special privileges to perform autopsies when it was forbidden for general doctors. They were fearless. They took risks… They developed a mystique that became their identity. Always respect the Plague Doctor.
Jordan Hoffart
Co-Founder / President
Jordan Hoffart is a professional skateboarder who has played a major role in the skateboard industry for over 10 years.  He has competed and won televised championships all over the world, working with major media networks such as Fox Sports 1 & NBC Sports. He has developed many contacts in sourcing, manufacturing, sales and distribution which has given him the opportunity to bring so many people together to build BLACK PLAGUE.  He also aids in brand management, marketing and promotions with several of his major sponsors; including Stereo Skateboards, Bones wheels & Surplus Distribution.  Jordan never hesitates to help a friend in need. His sense of community with everyone he encounters, loyalty to his friends and family, and tenacity to see things through represent BLACK PLAGUE's core values.
Jarred Doss
Co-Founder / CEO
Jarred Doss is passionate about design, technology, and delicious tasting beer.  His creative vision for BLACK PLAGUE is realized through all the deep symbolism in every art piece he creates to represent the brand values. He grew up throughout southern California and the Midwest studying philosophy, communication, creating street art; working and collaborating with incredibly talented creators.  Jarred returned to California to pursue a career in the San Diego technology industry. Recently, he has focused on using technology to deliver compelling experiences for Active Network and Sony PlayStation.  When Jarred is not busy with the latest BLACK PLAGUE project, he wrenches on his chopped-up motorcycle – enjoying rides through local backroads around San Diego's North County.  Jarred's combination of initiative to take action, courage to risk failure, and aesthetic attitude is the embodiment of BLACK PLAGUE's guiding principles.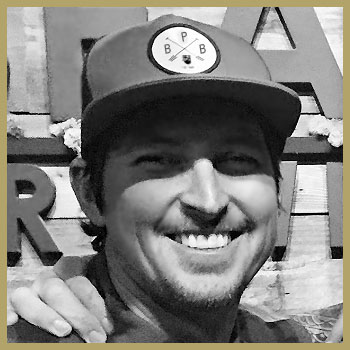 Jared Lucas
General Contractor & Fabricator (Facilities Manager)
Most notably at BLACK PLAGUE, Jared Lucas is known for this incredible fabrication skills that enabled him to build the Taproom in Oceanside. He has been busy designing and building 10-seat concrete tables from the scrap metal that was part of the shipping containers that were used to deliver our brewing equipment, repurposing old pallets and reclaimed wood as inlays for the table tops, creating the custom tap/draft wall, and several other projects that only he can make look easy. He is constantly building new contraptions to help streamline operations and improve the efficiency of the team. There is not a project that he can't handle. Oh, not to mention that he is an award-winning videographer and helps to manage the BONES Wheels Skate team.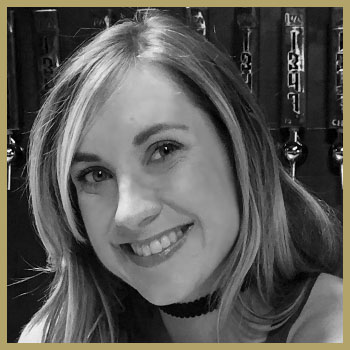 Megan Doss
Community & Human Relations Manager + Retail Merchandising Manager
Megan Doss is incredibly devoted to creating a hospitable environment for both staff and customers at BLACK PLAGUE, working directly with the founders to cover any gaps. She works tirelessly to cultivate meaningful experiences for everyone that engages with BLACK PLAGUE. Her relentless dedication to the brand values of creating a community and her compassionate personality are a winning combination that makes everyone's lives better. She is also responsible for ensuring that logistics related merchandise and apparel order fulfillment are taken care of. Megan is a priceless team member!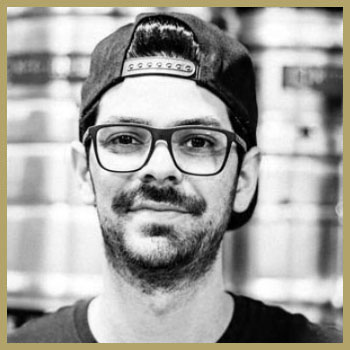 Aeryk Heeg
Brewer & Cellar Manager
Aeryk Heeg spends his spare time dreaming about brewing beer. Grew up in Corona, CA, he became interested in pursuing brewing after his brother bought him a Mr. Beer Homebrew kit for Christmas in 2013. He is passionate about making beer because he loves the idea of creating something that brings someone else joy and relaxation. Aeryk has a unique curiosity and drive to understand all the complexities of recipe formulation, ingredient selection, and the brewing process in general. These characteristics are most beneficial to BLACK PLAGUE's future success.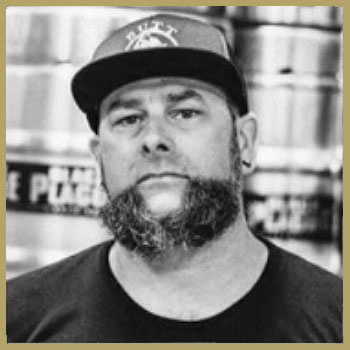 Bill Batten
Brewing Consultant
Accomplished brewer, Bill Batten, is part of the BLACK PLAGUE team. Formerly of AleSmith Brewing and Mikkeller Brewing San Diego, he is assisting with fermentation operations and all things related to designing award-winning beer recipes. Bill is also a fan of skateboarding and has been ripping his whole life… "I enjoy getting out on my skateboard, whether it's hitting the skate park with my friends or just throwing my board down on the sidewalk and pushing around the neighborhood, it's a great way to clear my mind and get centered."