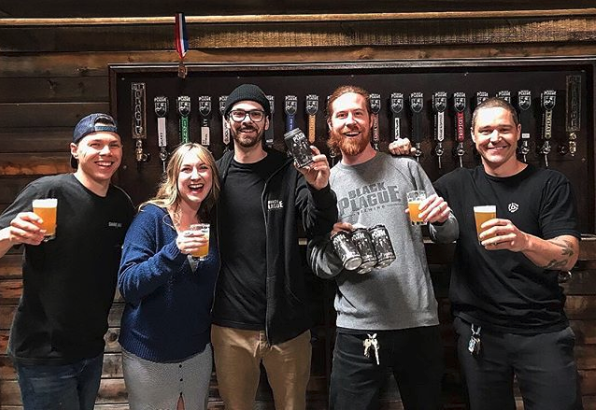 2019 Recap
Let's take a stroll down memory lane to celebrate all the accomplishments from 2019. It was a big year, and with the incredible amount of teamwork from everyone we've made lots of moves to position ourselves for an even bigger year in 2020.
---
Improved Operational Efficiency
Huge reduction in beer waste / lost in process from brewing yields, transfers, kegging, and canning runs this year as compared to last year. Better processes and smoother operations this year helped to save 12% more precious beer from going down the drain. That's the equivalent of 89,879 12oz cans of beer saved for drinking, instead of losing it down the drain.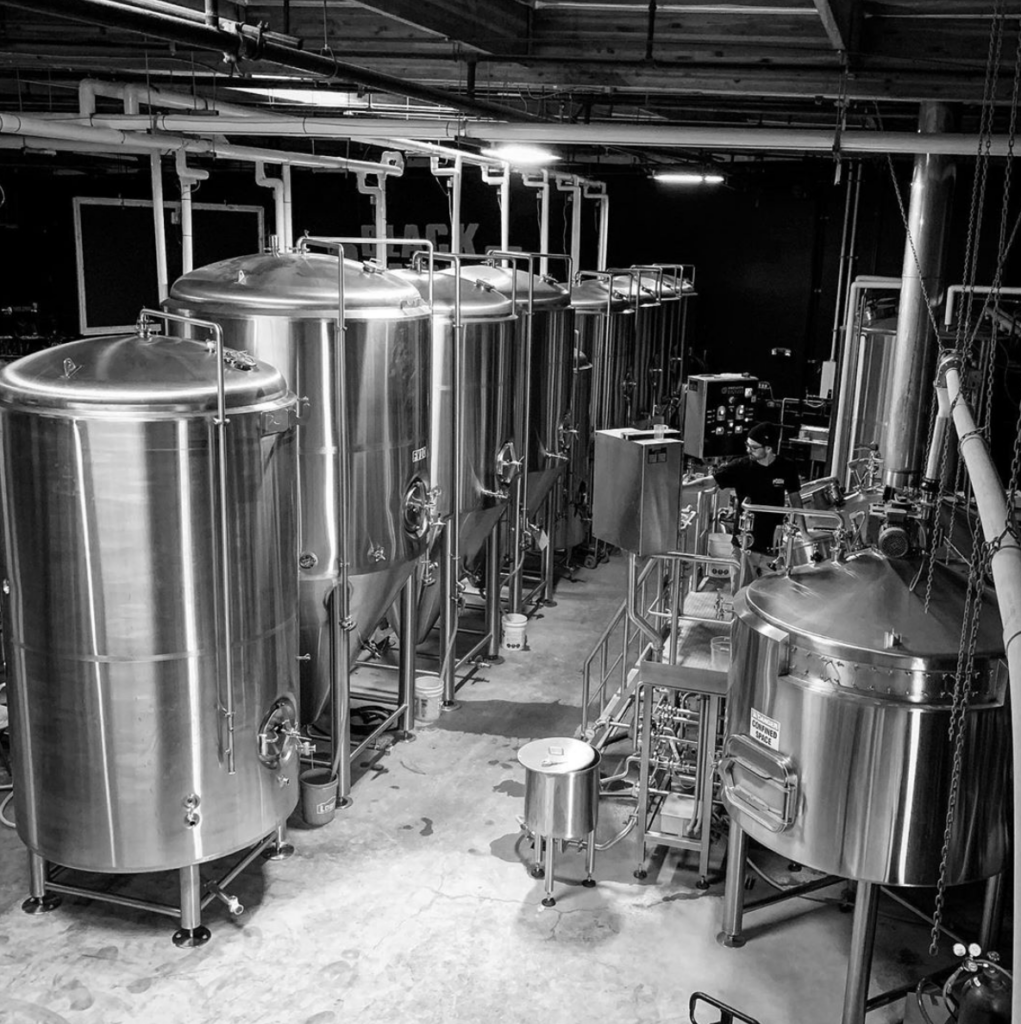 ---
Winning 1st Place / GOLD at San Diego Intl' Beer Competition
After only 2 years in business, our head brewer wins us a GOLD medal at the San Diego International Beer Competition. This is a highly competitive beer category at one of the most prestigious competitions in the country, second only to the Great American Beer Festival in Colorado. We're very proud of this award. It has helped to launch the Hazy Scandal Hazy IPA to the top of the charts, becoming one of our best-selling beers.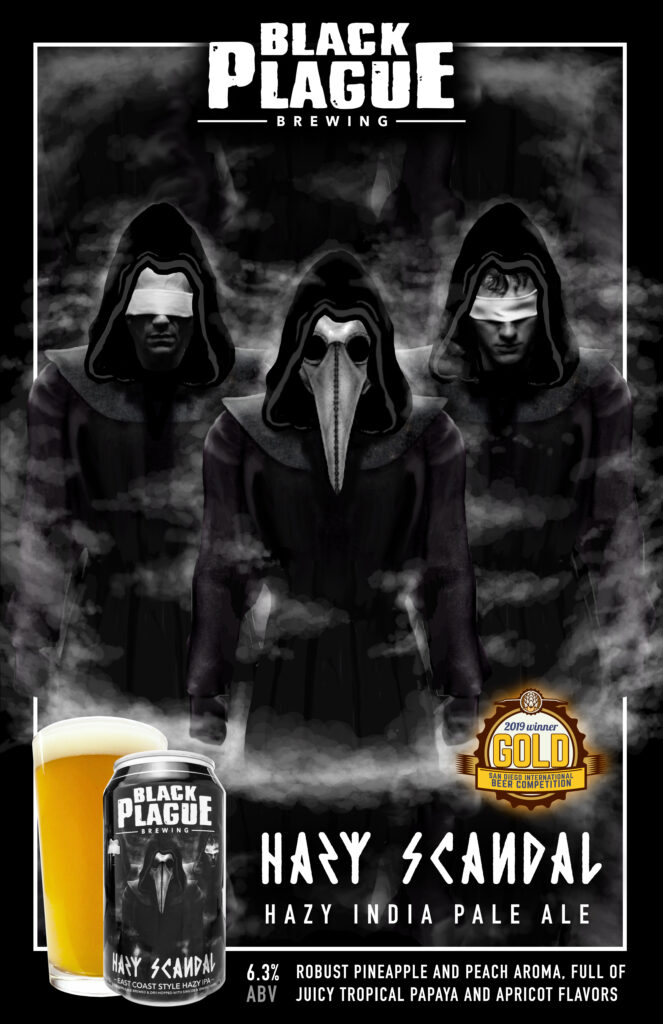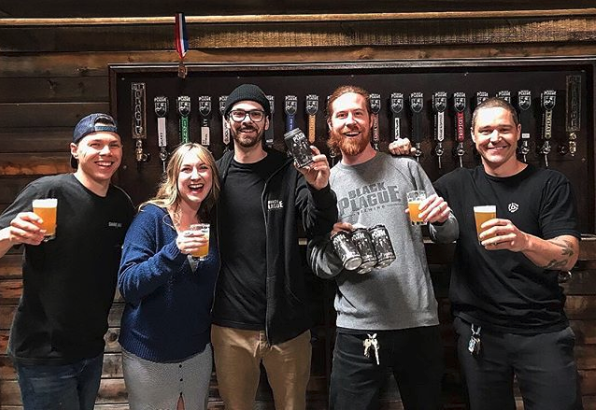 ---
47% More Beer This Year
The Production Team brewed 47% more beer this year than last year. Demand is increasing and we will need to expand this team in 2020 to keep up. Kudos to this team for maintaining an incredible level of quality control while churning out award-winning beers at an amazing pace.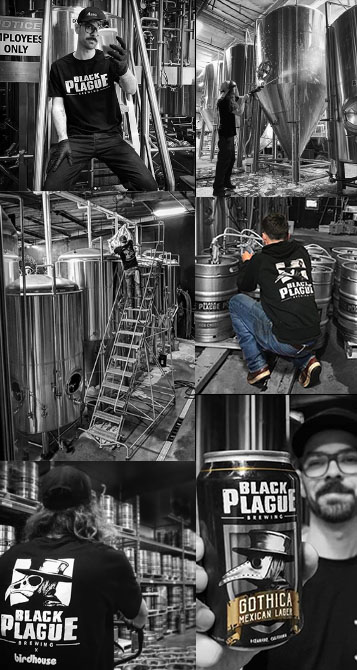 ---
Installing all the tanks to finish the first cellar
We continue to reinvest all profits into growing the infrastructure for this business to thrive. Our original plan of maximizing all the space in our warehouse is coming to fruition. Our first cellar (beer fermenting & conditioning area) is finally complete with the addition of (2) 60 barrel tanks. This puts our total annual brewing capacity at about 8,000 barrels of beer. Thats nearly 1.98 MILLION pints of beer. We have not reached that maximum capacity yet, but we are striving for it in 2020.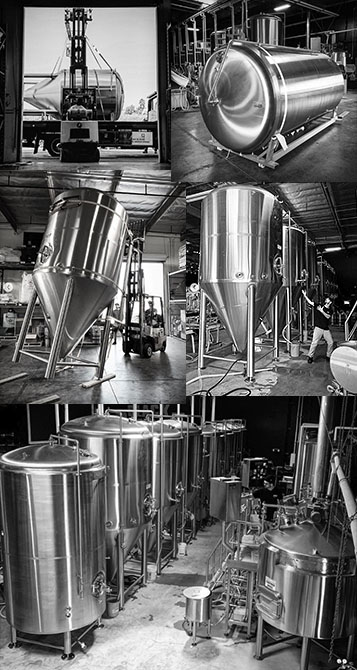 ---
Collaborations Galore
"If you want to lift yourself up, lift up someone else." – Booker T. Washington.
We've been humbled to work alongside some of the best teams in the industry to collaboratively brew styles of beer that we have never produced before. Below is a short list of some of the most notable collaborations we've done this year:
Birdhouse & Tony Hawk – this launched our best-selling beer brand – Tony Hawps Birdhouse IPA
Stone Brewing – releasing two new styles we had not brewed yet – our first Berliner Weisse (Sour Ale) and Hefeweizen.
Belching Beaver Brewery – Our first double dry hopped IPA which sold out in distribution before we even released it.
Sketchy Tank – a brand collaboration to release several new pieces of merchandise that our followers have been begging for since we first opened our doors. Those merch items are by far our most popular pieces.
Duck Foot Brewing Co – brewing our first Gluten-Reduced beer, a style that we will experiment with in 2020 to see what styles work best.

---
Celebrated our 2-Year Anniversary
2 Years and many more to come. Every year, we try to out-do ourselves with extravagant events, outlandish beer brands, and collaborations. We are so very thankful for everyone that has ever purchased a BLACK PLAGUE beer, our accounts & distribution parters! We wouldn't be here without them.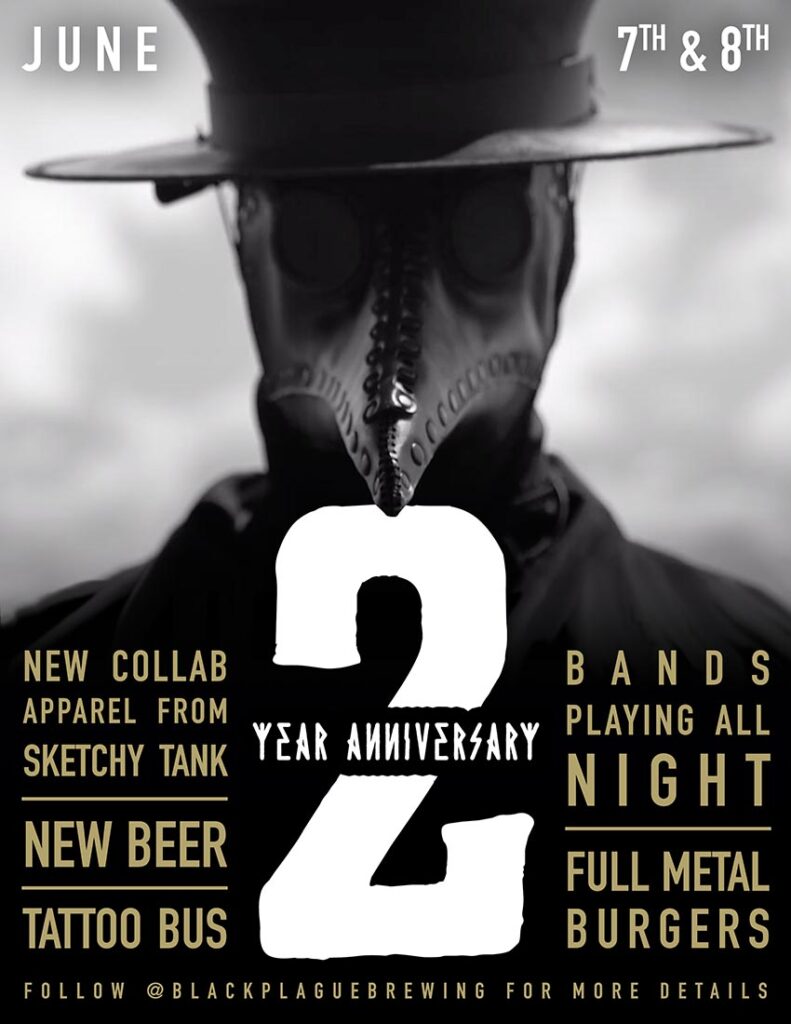 ---
To wrap up this year-end recap, below is a short reminder about what we stand for as a team and a company…
What We Stand For…
At BLACK PLAGUE Brewing, we are working to create a better life for people through quality products and the hospitable experiences we offer. We are constantly developing better ways of providing our service by doing it. Through this work, we have come to live by the following core values and principles… This is what we stand for.
Beer makes friends – Build a community & treat people like family
In order to build a community, you need like-minded individuals that are collectively loyal to a common mission of cultivating meaningful work and meaningful relationships.
Quality over quantity
It's called "craft" for a reason. From the beginning, we've focused on creating high quality original products that set us apart from our competition. We attract fans, followers, and customers because of the quality of our products, not the amount that we produce. We will not sacrifice quality in the pursuit of higher volumes or reaching more people.
Have a "Find a way or make one" mindset
Finding simple solutions to everyday problems is the most creative and valuable problem-solving we can do. Always be curious and look for ways to solve a problem even when it seems like there is no answer in sight. There is always a way, although it may come at a cost in some other way. Logic, reason, and common sense are your best tools for synthesizing reality and understanding what to do about it.
Engage, cultivate, and empower yourself and those around you, as people are our most important resource
Identify your strengths and weaknesses in order to understand how you can best use your skills on the team. Don't give orders and try to be followed; try to be understood and to understand others by getting aligned. Each person fulfills a function that supports our strategic objective of becoming a respected brand in this industry and beyond. It is critically important that we all understand the expectations for our role, the results that each person is expected to achieve, and the list of standards by which you will be measured and the results evaluated.
Trust in radical truth and radical transparency
Understand your ego barrier and your blind spot barrier by being radically open-minded and radically transparent. Have integrity and demand it from others. Never say anything about someone that you wouldn't say to their face and don't judge people without accusing them to their face. Don't let loyalty to people stand in the way of truth and the well-being of the team and company. Share the things that are the hardest to share. Accepting who you are and where you are at in life will only serve to help you better understand how you can grow and the steps you need to take in order to get where you want to be. In being transparent about how you feel about yourself and others, it will help those around you to be transparent and learn how to better improve themselves as well. If a number of different believable people say you are doing something wrong and you are the only one who doesn't see it that way, assume you are probably biased. A great organization has both great people and a great culture. Great people have both great character and great capabilities. Great cultures bring problems and disagreements to the surface and solve them well, and they love imagining building great things that haven't been built before.
Pain + Reflection = Progress & Growth
"Our most painful moments are also our most important. Rather than run from pain, we need to identify it, accept it, and learn how to use it to better ourselves." – Ray Dalio. Accept tough love and embrace the pain that is felt from making mistakes or errors. Through reflecting on the pain you can learn what is necessary to become better and avoid making the same mistakes again. Identify and don't tolerate problems. Don't avoid confronting problems because they are rooted in harsh realities that are unpleasant to look at. Recognize that mistakes are a natural part of the evolutionary process. It is ok to make mistakes, it is unacceptable not to learn from them. An idea meritocracy that values inputs from all levels of the organization is the best way to grow as a team. Accepting that some of the best ideas come from the people that do the work.
The idea behind the work is more important than the work itself.
Don't take yourself so seriously, but be very serious about the work you do. Have fun, but pursue your work passionately. Always be a student. Be curious. Learn about your role and how it impacts the team and the company. Learn about other's roles and how you can support them. Remember to have fun, but also remember that every task should be taken seriously.
Encouraging positive social, environmental and cultural change as a business role model
BLACK PLAGUE Brewing represents the misfits, renegades, underdogs, rebels, rule-breakers, nonconformists, hustlers, D-I-Yers, and all those who strive to be better, stand out from the crowd, and follow their true passion. These are the people that change history – that make an impact. We want to support positive social, environmental and cultural changes through our brand activities and interactions with the communities we serve.
We will continue to operate based on these principles, and seek to bring more people onto this team that are aligned with them. Cheers to a great year. Thanks for being a part of this journey.
Respectfully,
the Black Plague Team